Proverbially, April's showers herald the flourish to follow. And the month's advertiser spend on CTV may just denote a distinct parallel.
Spend flooded in to reach the $950M mark—a deluge with an outcome we'll patiently await.
In the same breath, we witnessed the shift of dollars amongst our top ad-supported streaming platforms as two frontrunners contend for the second-place podium.
While there's no Farmer's Almanac for ad intelligence, we're here to give you the insights you need to make your best predictions as the climate continues to change.
Top platforms
Advertiser spend on our top platforms reached a 40% growth rate year-over-year from April 2022 to April 2023, excluding spend on Disney+, which just launched its ad-supported program in March 2023.
However, we found that Disney+ is on an upward trajectory since March with 3.5% more spend garnered month-over-month in April.
April 2022-2023: Ad spend by platform YOY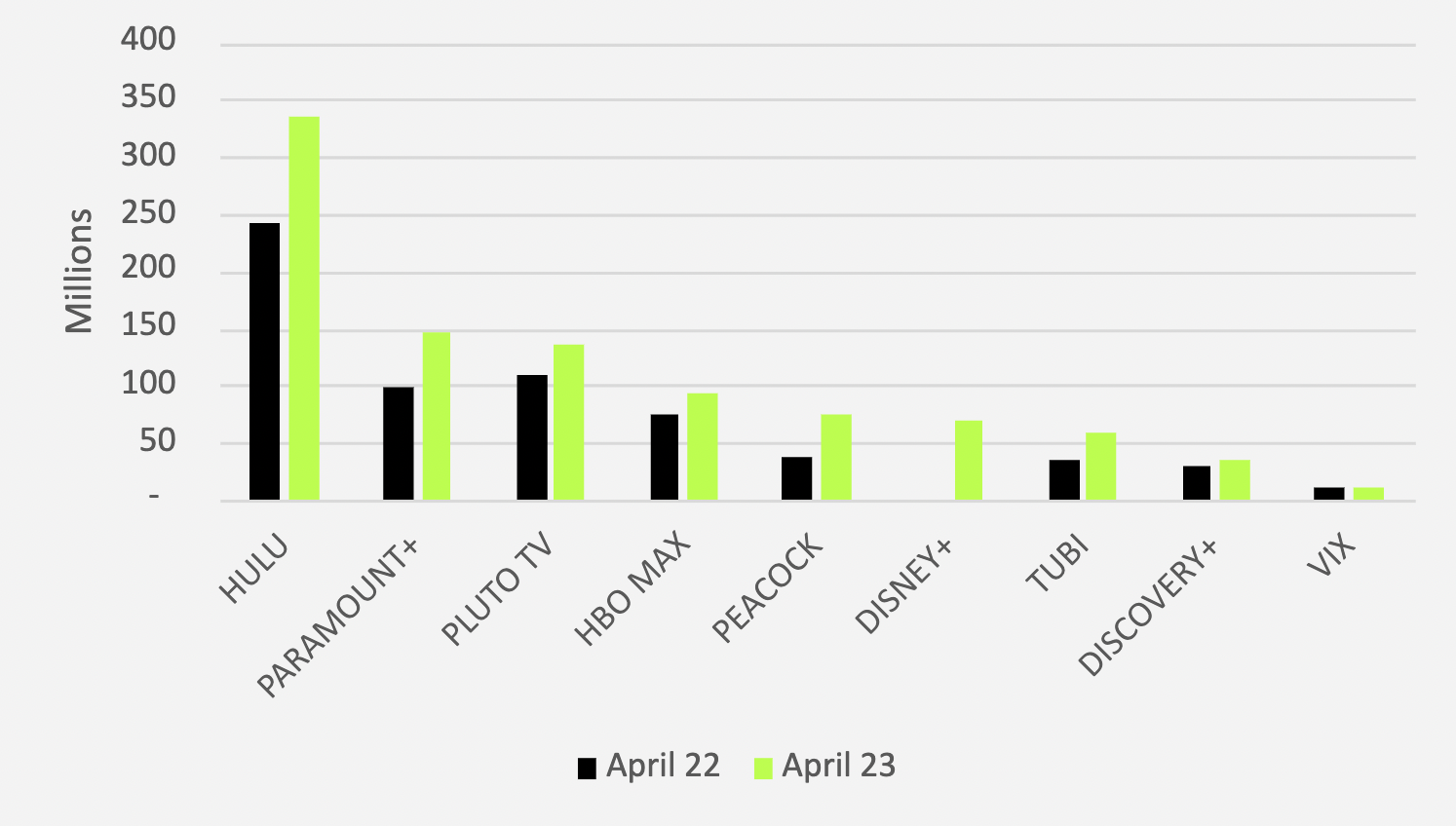 Source: Vivvix
Leading industries
Restaurants, food and beverage, and retail landed in our top three industries with the highest CTV spend. The financial and insurance industry ranked fourth across the board but rose to the top of the Tubi rankings.
April 2023: Industry rankings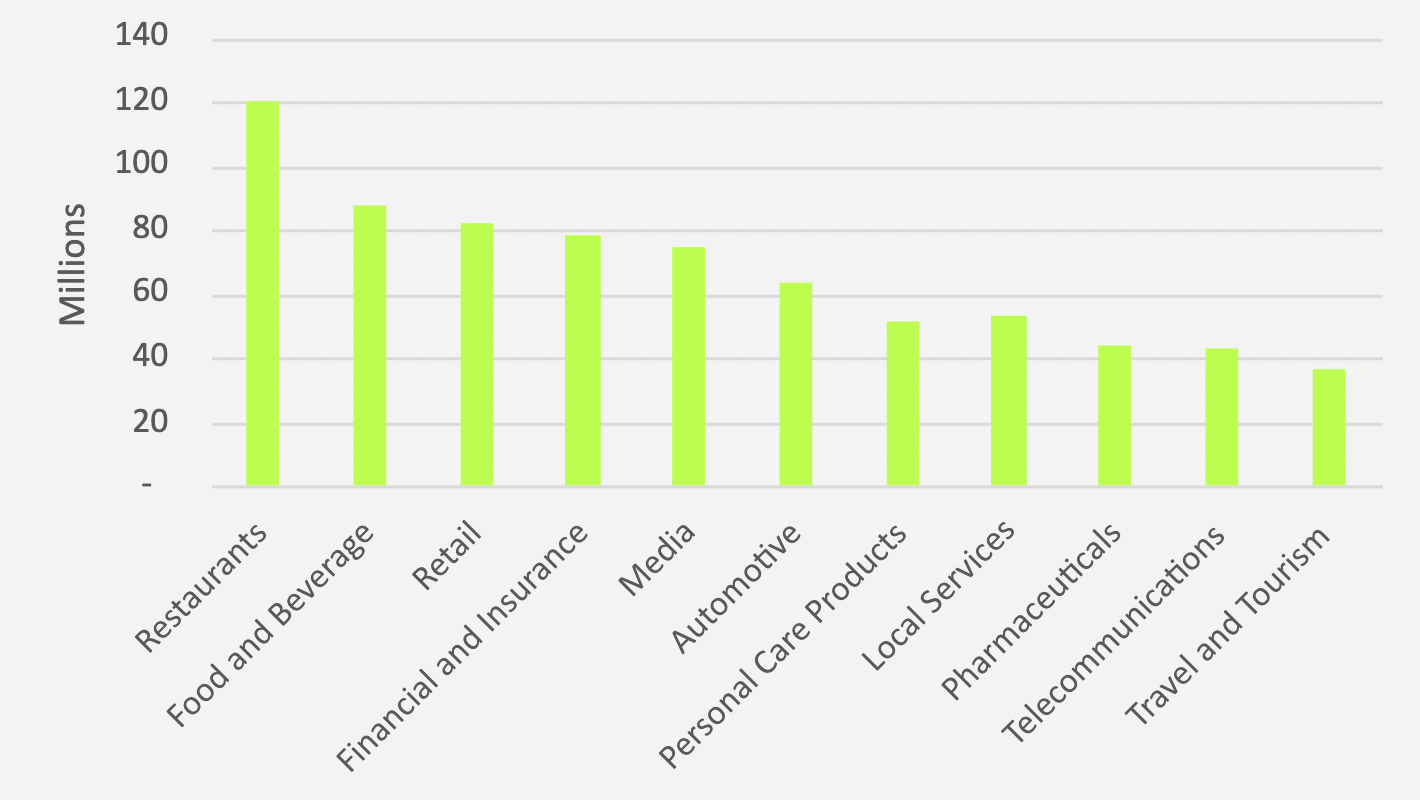 Source: Vivvix
Ranking in the 21st spot, the pets industry did not advertise on Disney+, HBO Max, or Vix—indicating an opportunity for brands to jump in on those platforms.
Electronics left white space on Discovery+ in April in the lead-up to the platform's merger with HBO Max—where 39% of their CTV dollars went.
Top spenders
There was significant movement toward Pluto TV for a host of our top spenders like Olive Garden, Fanduel, and Nutrafol.
Olive Garden threw 60% of their ad-supported streaming dollars in this direction while omitting spend on Disney+, HBO Max, and Vix.
Meanwhile, runner-up McDonald's dabbled with Disney+ and reigned as the greatest Hulu spender amongst our top 20.
Rounding out our top four, Walden University spent predominantly on Pluto TV with a strong nod toward Tubi, and KFC poured plenty of dollars into Hulu and Pluto TV.
With all of this traction, Pluto TV may be one to watch as the platform inches closer to second place to beat out Paramount+ as it did in 2022.
Streaming vs. linear
Pharmaceutical brands didn't command the top 20 streaming spenders, but they did hit their stride in the ranks of streaming and linear spend combined.
Amidst an eddy of recent weight-loss drug news fodder, Ozempic and Wegovy manufacturer Novo Nordisk made headway despite dedicating little spend to AVOD.
On the other hand, McDonald's made a splash on both fronts with the most striking split on record this year in the streaming and linear realm—41-59%, respectively.
Capital One became the second highest AVOD spender, placing 29% of their streaming/linear budget on streaming.
April 2023: Top 20 brands with highest combined streaming and linear spend (ranked from most to least overall spend)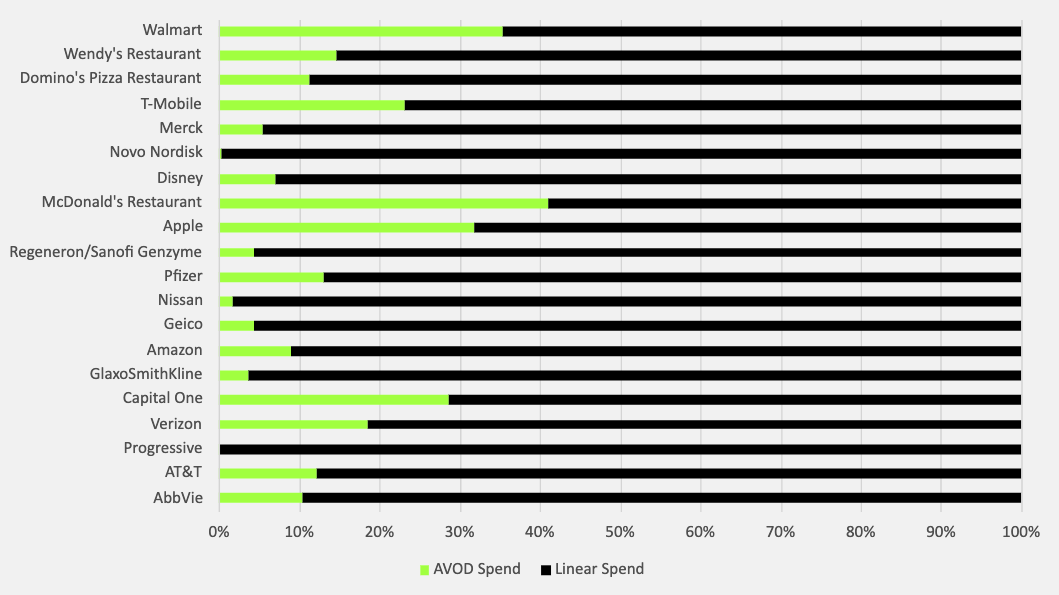 Source: Vivvix
Popular programs
As for streaming spend by program, Bar Rescue, Star Trek: The Next Generation, and Beverly Hills 90210 nabbed the top spots.
The sci-fi classic is available to stream on Paramount+ and Pluto TV exclusively. And despite its remake, the original 90210 made a massive comeback through Hulu and Paramount+.
As for Bar Rescue and 90210—both programs saw an increase of advertising around 450% compared to April 2022.
CTV/STREAMING

INTEL
Now that Disney+ is in our mix, we're eager to chart its development through future editions of the Streaming Recap.
Each month, we'll share the latest insights including spend, trends, and creative in one of the most competitive landscapes to date. Stay tuned as we #FreeTheData.
Want access to streaming data and breaking creatives? Contact us here.