If advertising strategy isn't your schtick, it's unlikely that you have commercials on the brain in your day-to-day.
But there is one distinguished moment each year, falling in February, when viewers sit tight in anticipation of what each break in the program may hold.
Yes, the Super Bowl is the ad tour de force that grips media superfans everywhere, and advertisers go big or go home to capitalize on their own "main event."
However, there's much more to their methods of deploying the month's budget than throwing millions more at linear than they usually do.
In lining up February's streaming recap, we found that brands didn't slack on AVOD spend. Furthermore, we know where they're advertising broadly... and specifically.
Top platforms
Examining ad spend across the top eight ad-supported streaming platforms, we found that the breakdown closely mirrored that of January. But while the visual is a near reflection, there's more than meets the eye.
As for major trends, overall spend increased and behemoth Hulu surpassed the $300M mark.
February 2023: Ad spend by platform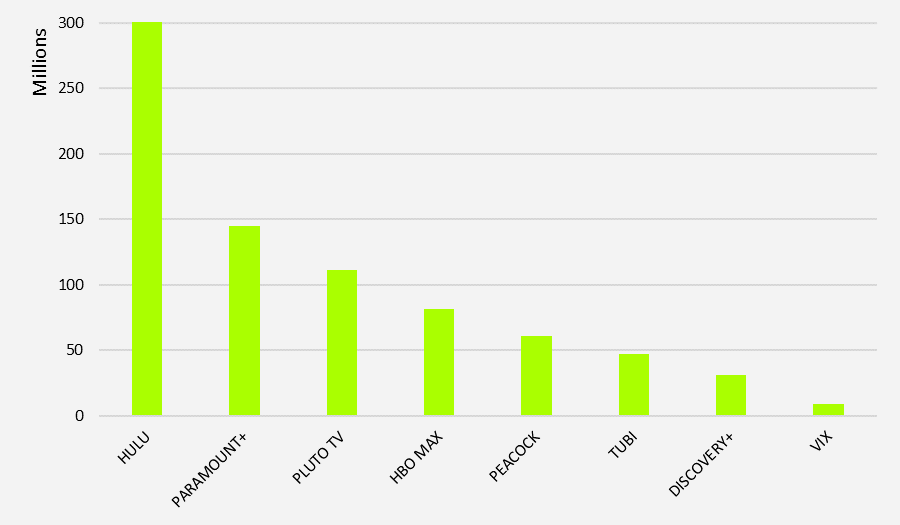 Source: Vivvix
Peacock nabbed the largest year-over-year growth as ad spend on the platform nearly doubled, rising from $31M to $61M. Tubi and Paramount+ also experienced robust year-over-year growth—at 68.6% and 64.5%, respectively.
Altogether, ad investment in streaming platforms grew 40.5% year-over-year, nearing $790M for February.
February 2022-2023: Ad spend by platform YOY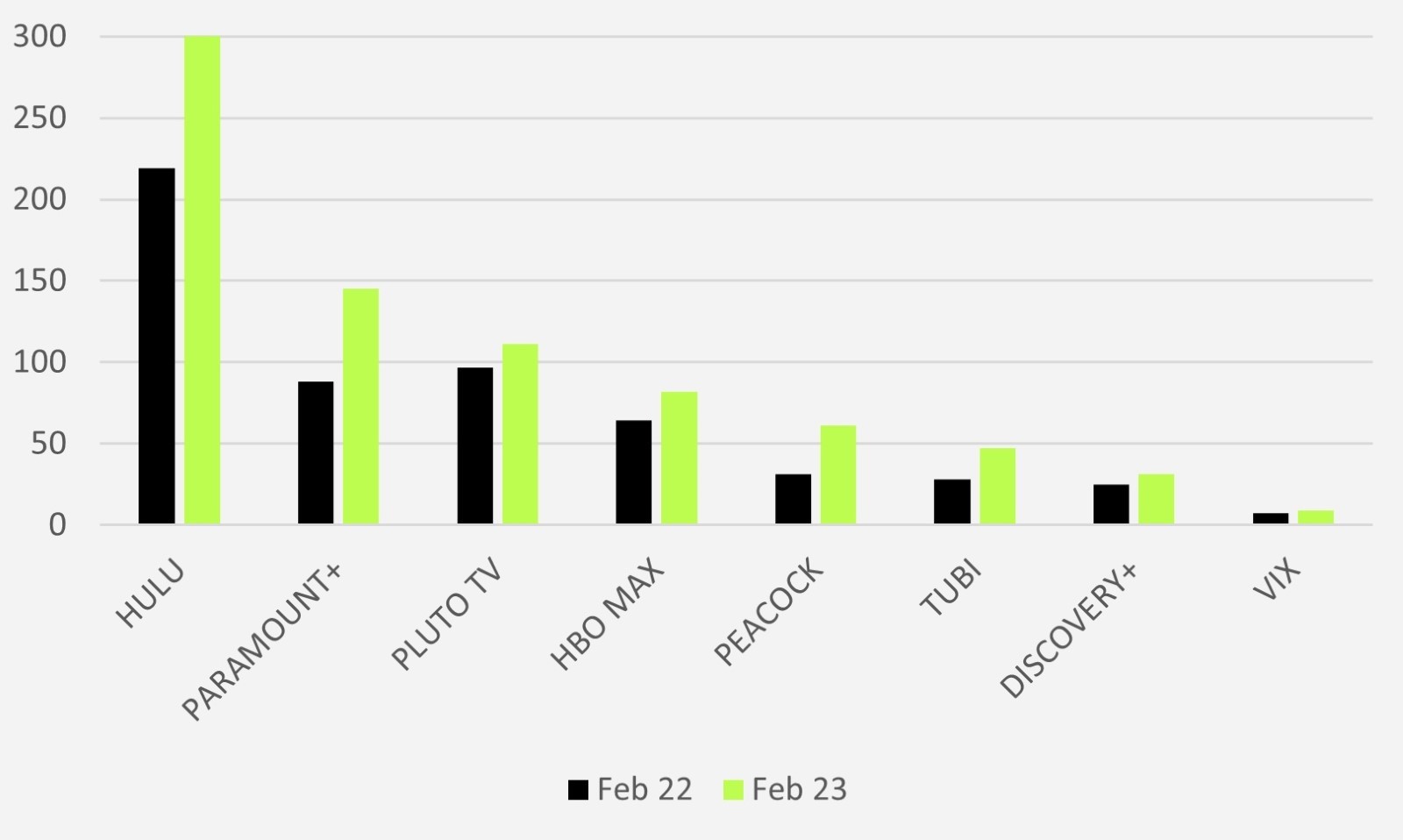 Source: Vivvix
Leading industries
Media topped the chart for the greatest ad spend of any industry across streaming platforms at nearly $87M in spend, followed by financial and insurance, and restaurants.
Telecommunications and pharmaceuticals entered the top ten—the former ranking first amongst Vix spenders, the latter ranking near the bottom for both Tubi and Vix.
February 2023: Industry rankings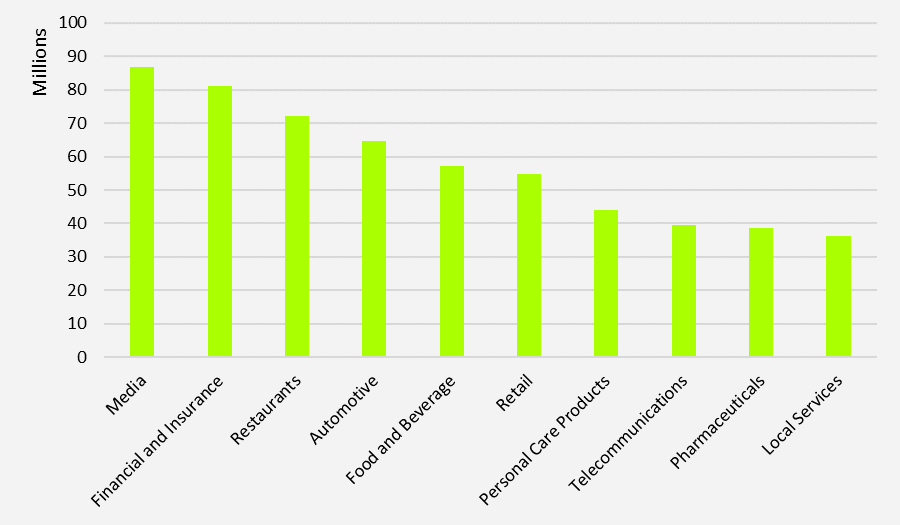 Source: Vivvix
Hulu secured the lion's share of spend from every industry in our top 25 spenders except for #23—office equipment and manufacturing. Half of their ad streaming dollars went to Paramount+.
Last on our list, the energy industry went 100% in on Discovery+ for another script flip.


Streaming vs. linear
We know that a lofty $560M went to in-game ad spend for Super Bowl LVII—$20M more than last year—which no doubt accounts for a thick slice of February's linear ad spend.
But brands still carved our room in their budgets for streaming. In fact, the month's chart appears immediately indicative of an even greater commitment than that of January.
Warner Bros Pictures and Universal Pictures entered the top 20 biggest streaming and linear spenders—doing more than just testing the waters.
February 2023: Top 20 brands with highest combined streaming and linear spend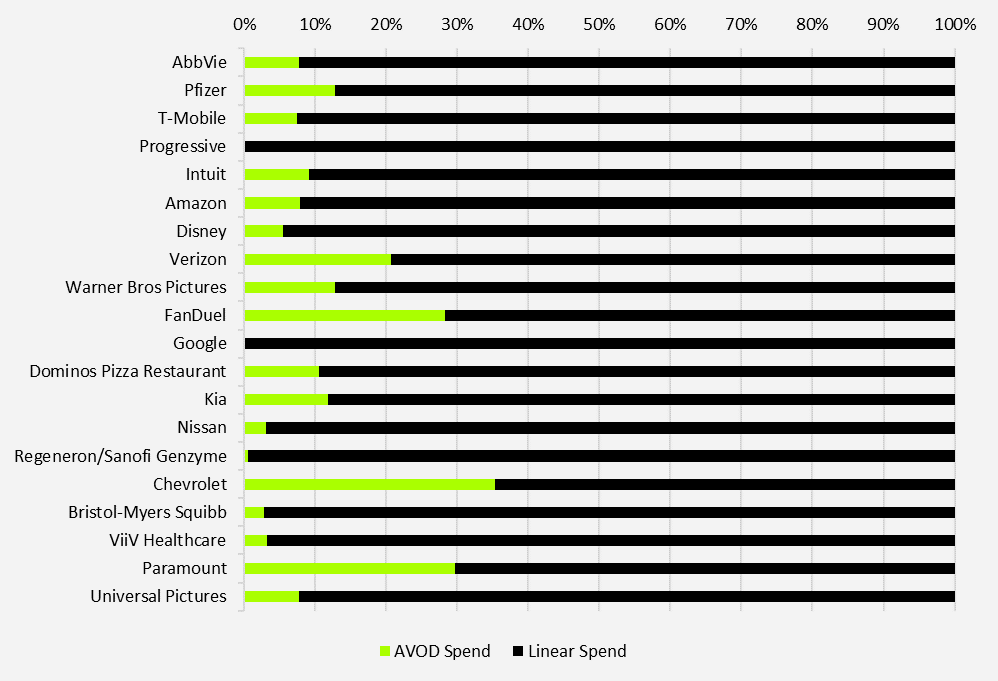 Source: Vivvix
Chevrolet claimed the top spot amongst the top AVOD spenders for February, though they ranked 16th in terms of overall highest spend of AVOD and linear combined. Paramount's spend looked similar, taking 4th in AVOD spend but 19th in overall spend.
Pharmaceuticals giants AbbVie, Pfizer, and Regeneron/Sanofi Genzyme also made the list—a testament to the industry's ranking.
Popular programs
We've cast our net wide, but we've cast it deep too.
A more granular look at AVOD spend reveals what programs are gathering the most ad dollars—the top three being Jersey Shore: Family Vacation, RuPaul's Drag Race, and Hell's Kitchen.
Streaming ad spend on Jersey Shore clocks in at $12.6M while RuPaul's follows at just over $10M, then Hell's Kitchen at $9.2M.
So the question may be: Where are viewers streaming these shows?
All are available on Hulu, unsurprisingly, despite their availability on competing platforms like Paramount+, Pluto TV and Tubi.
As services expand the breadth of their offering, advertiser dollars will follow suit, and the battle of the platforms will surely intensify as the year goes on.
AVOD INTEL
Each month, we'll share the latest insights including spend, trends, and creative in one of the most competitive landscapes to date. Stay tuned as we #FreeTheData.
Want access to streaming data and breaking creatives? Contact us here.