From marketing to media to research, January drums up palpable energy for ambitious teams with auspicious goals. Carefully crafted advertising strategies reach deployment, and the show begins.
To bring you the state of streaming, we've run the numbers to compare this January's AVOD (ad-supported video on demand) streaming data to last—in the pursuit of exploring, documenting and, admittedly, sating our own curiosity.
Let's get into it.
Top platforms
First and foremost, we found that overall advertiser spend is up 41.4% from January 2022 to January 2023 across the top eight ad-supported streaming platforms. Hulu cleaned up 38.2% of that overall spend across platforms, with a cool $290M or so.


January 2023: Ad spend by platform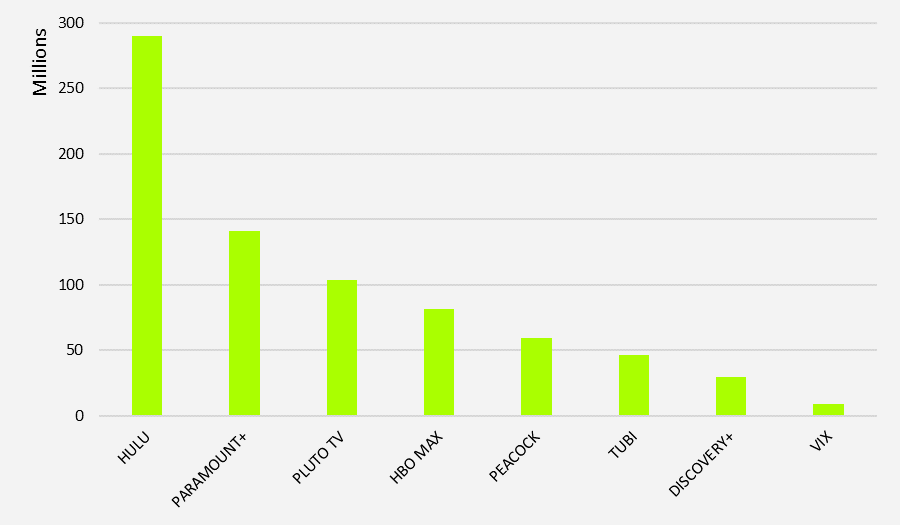 Source: Vivvix
The Paramount+ jump from third to second (at a 66% increase YOY) is also significant when you consider what it may have taken for them to edge out Pluto TV. Despite jumping only one spot in the rankings (from seventh to sixth) Tubi has seen an 80.7% increase in ad spend YOY, and HBO Max has also been on the rise with a 27.5% increase.
January 2022-2023: Ad spend by platform YOY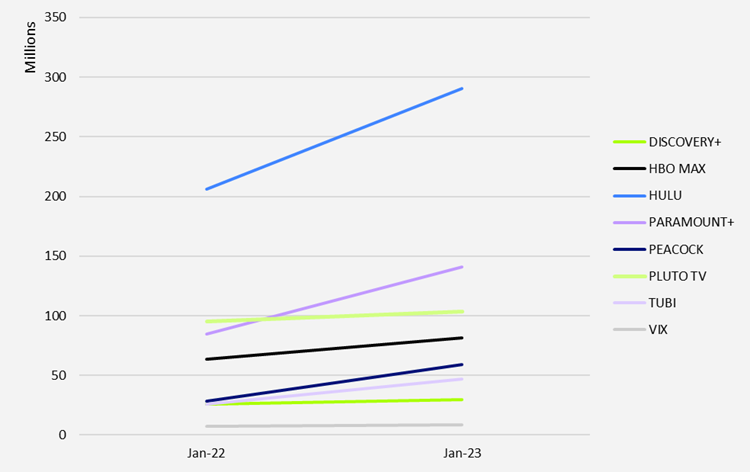 Source: Vivvix
Leading industries
The industries with the greatest buy-in across streaming platforms in January 2023 were financial and insurance, restaurants, and media—and they were in close quarters.
January 2023: Industry rankings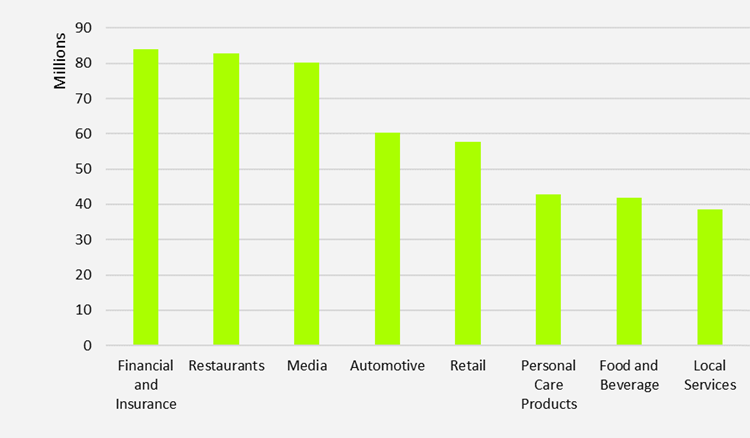 Source: Vivvix
If Hulu is still miles ahead, which of these industries ruled the platform? This arena's streaming landscape isn't particularly puzzling.
Restaurants ranked first on Hulu, making up 14.1% of the spend across the top 25 industries who advertised with the platform in January.
The financial and insurance industry group led the charge on spend across on both Peacock and Tubi, also ranking third on Hulu. While a top-spending industry on most platforms, it came in 15th place on Discovery+, leaving whitespace for an advertiser to dominate there.
Automotive came in fourth across all platforms with $60M in spend—a hefty 42.2% of which went to advertising on Hulu.
Top spenders
We identified the top 20 brands with the highest streaming spend in January 2023. So where were the leaders putting their dollars?
McDonald's was in third place for top spend across all platforms—also nabbing the title of biggest Hulu spender. Verizon was the second-highest spender overall, and the number one spender on Vix. Despite that emergence, Paramount+ claimed the majority of their streaming spend. And in the number one spot, State Farm is our top AVOD spender in January, with the greatest chunk of their streaming spend going to HBO Max.
That said, the trend of broad platform diversity may be manifesting amongst brands, and the implications aren't so easy to forecast just yet.


Streaming vs. linear
Comparing ad-supported streaming to linear advertising spend presents an opportunity to zoom out for a glimpse at the bigger picture, so let's take a look at who's spending the most across both channels.
State Farm came out on top for streaming spend, with 23% to streaming and 77% to linear—outpacing the next largest streaming spender, Verizon, who opted for 12% to streaming and 88% to linear.
Though linear is still king, we're keeping tabs on this shift toward streaming, tracking its momentum in 2023 for all inquiring minds.
January 2023: Top 20 brands with highest combined streaming and linear spend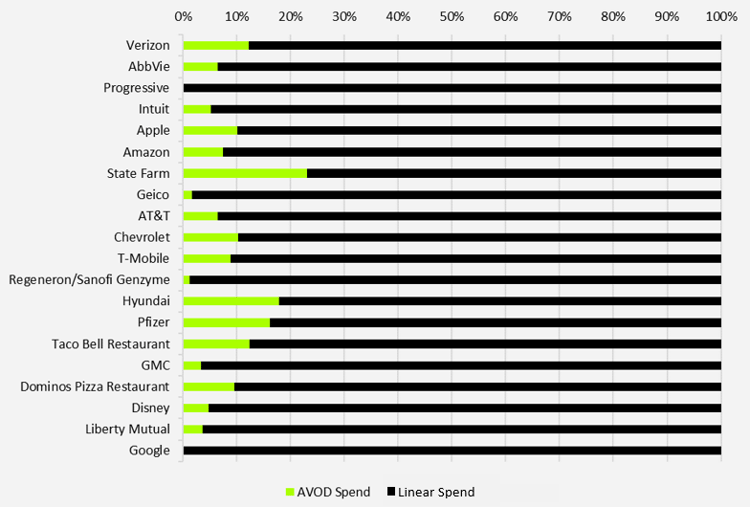 Source: Vivvix
AVOD INTEL
Each month, we'll share the latest insights including spend, trends, and creative in one of the most competitive landscapes to date. Stay tuned as we #FreeTheData.
Want access to streaming data and breaking creatives? Contact us here.