August is summer's final hoorah, marked by anticipation for all things autumnal, but we've got reason to prepare for incoming trends that hinge on evolving CTV strategies rather than flavors of the season.
Combined streaming and linear spend is the potent proof as big-name brands in specific industries upped investment in the former to create some compelling contrasts.
Top platforms
Overall CTV spend inched back up toward one billion—$990M+ in August—an increase of nearly $10M from July.
MAX jumped two slots from July to rank third in August spend in other month-over-month developments.
Pluto TV spend decreased by nearly 24% YoY for August 2022 to 2023—the greatest decline we've seen thus far this year.
August 2022-2023: Ad spend by platform YOY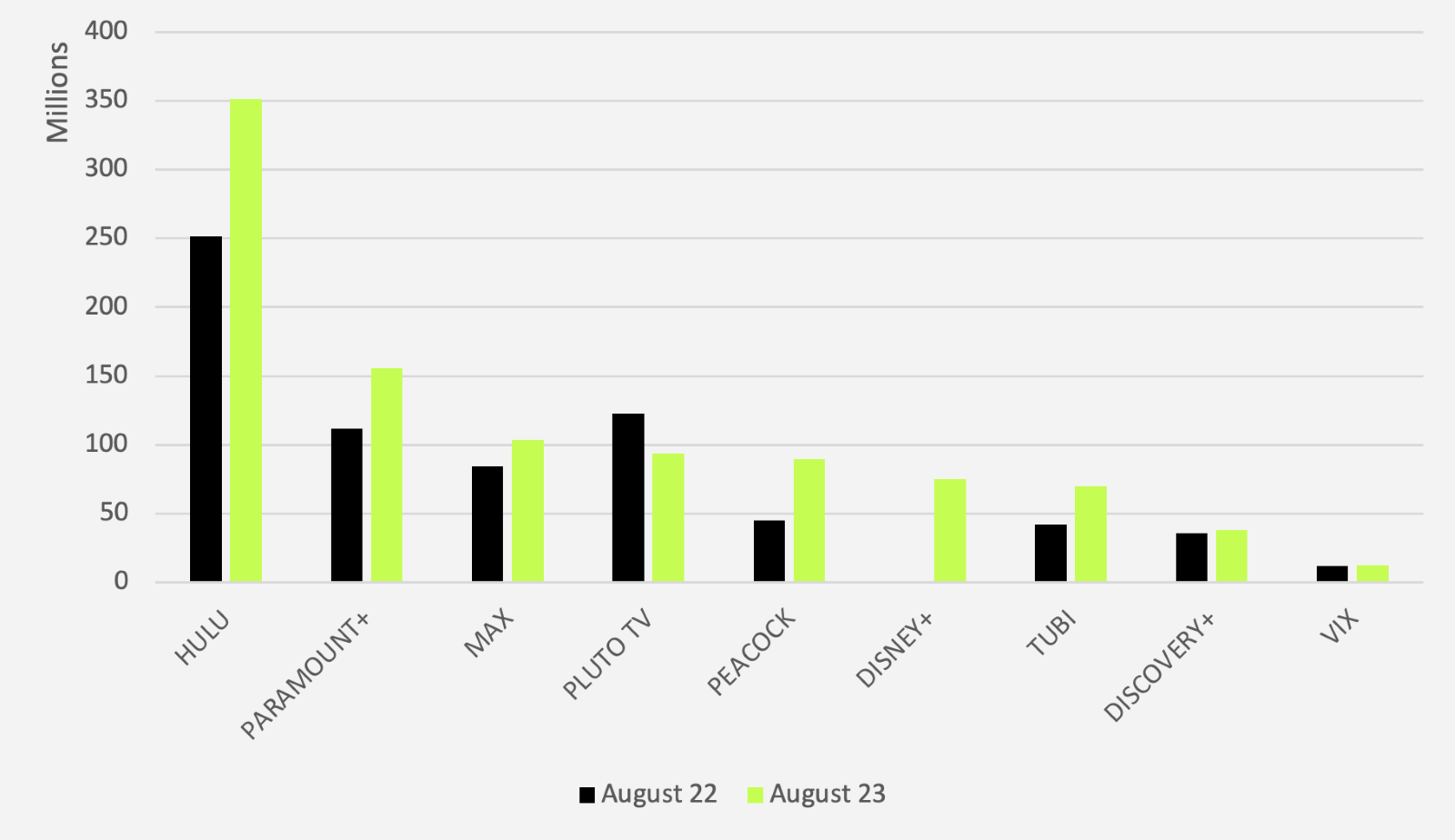 Source: Vivvix
Leading industries
1. Food and beverage
2. Restaurants
3. Financial and insurance
Financial and insurance gained about $13M in CTV spend from July to August, landing the industry at $92.5M total. As the top-ranking industry for Pluto TV spend—$15M toward the platform—this amount comprised 16% of that total.
Restaurants spend declined by about $14M, while food and beverage spend increased by $4M and media spend increased by $8M.
Automotive spend on MAX increased by $7M to $15.1M, bringing MAX's share of the industry's total CTV spend up by nearly 9% from July to August. This increase nearly closed the gap between automotive and regular MAX top industry, media.
F

inancial and insurance

,

food

and beverage, and media

spend were some of the main forces behind the increase in overall CTV spend

Automotive spend on MAX increased by

$8.1M from July to August




August 2023: Industry rankings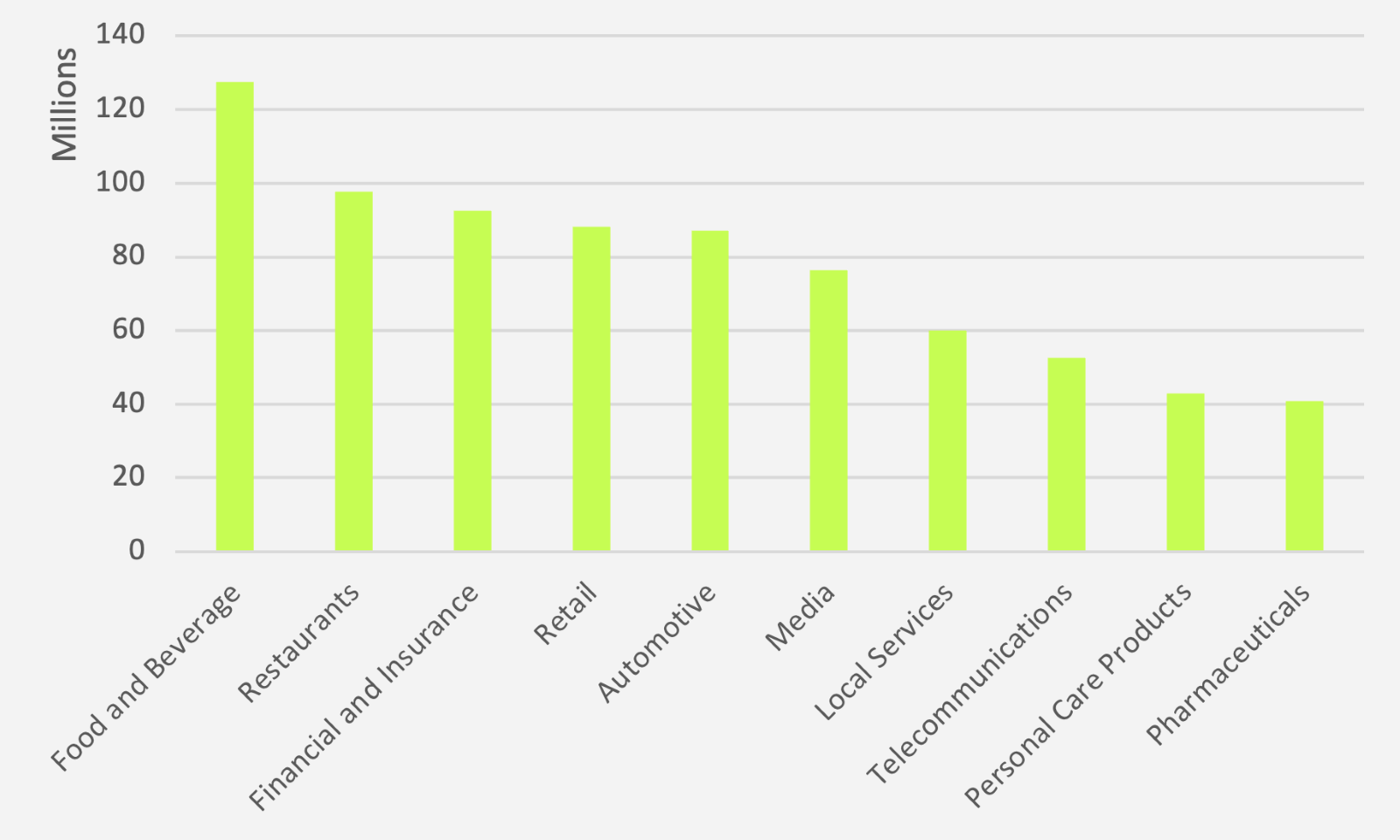 Source: Vivvix
Top spenders
1. Walmart
2. State Farm
3. Amazon
Top-spender Walmart preferred Discovery+ in August, investing 30% of their total CTV spend in the platform.
Source: Vivvix
Source: Vivvix
Amazon cut their Paramount+ spend in half relative to July. But Olive Garden, new to our top 20, favored the platform with an allocation of 40% of their total CTV dollars, and Hulu was a close second for them at 30%.
Hulu also entered our top-spender ranks as the first streaming platform to do so. And they advertised on their own platform, sure, but an extraordinary 79% of their CTV spend went toward Pluto TV.
AT&T became the top MAX advertiser, and Peloton was the second-ranked Tubi spender—trailing just behind two-time top-spender Credit Karma.
Walmart invested 30%

of their

total

CTV spend in Discovery+

Olive Garden invested 40% of

their total CTV spend in Paramount+

Hulu

, as an advertiser,

invested 79% of their total CTV spend in Pluto

TV
Streaming vs. linear
Progressive's AVOD spend leapt exponentially from July to August—by 440%—the new spend breakdown shaking out to 14% on AVOD and 86% on linear. In past months they've consistently dedicated just under 3% to the former.
Meanwhile, State Farm smashed the record for the greatest contribution toward AVOD in a monthly AVOD/linear split. The competing insurance provider went for 62%-38%.
We last caught State Farm in our top 20 AVOD/linear spenders in March—when they invested about 29% in AVOD.
We also captured seven pharmaceutical companies in these ranks—a curious development as overall pharmaceutical industry AVOD spend shrunk by nearly $6M from July to August.
Of the bunch, Pfizer placed the greatest emphasis on streaming—about 21% of their combined AVOD/linear spend.
Progressive's AVOD spend increased by 440% from July to August

State Farm's AVOD/linear split was 62%-38%

Seven pharmaceutical companies ranked in the top 20
August 2023: Top 20 brands with highest combined streaming and linear spend (ranked from most to least in AVOD spend)
Source: Vivvix
Where's the white space?
Tubi spend increased by a thin margin from July to August, financial and insurance accounting for much of it. But a thick stack of dollars made the difference between food and beverage spend—from $3M down to $830K in a month's time.
Pharmaceuticals scaled back on MAX. Despite the platform's overall rebound in spend, platform spend by industry advertisers shrunk by 76%—from just about $1.1M in July to a mere $260K in August.
Finally, restaurant spend on Pluto TV declined by a colossal $12M between July and August, begging the question: Which advertisers will return to seize the space?
We'll check back in when we delve into September's numbers.
CTV/STREAMING

INTEL
Each month, we'll share the latest insights including spend, trends, and creative in one of the most competitive landscapes to date. Stay tuned as we #FreeTheData.
Want access to streaming data and breaking creatives? Contact us here.