Midway through the calendar year, advertising tends to break its hectic pace, but CTV presented a very different case this June.
Streaming ad spend broke the $1B mark, a milestone that planted a bold-faced sign of the channel's momentum and indicated that brands are pleased with their CTV investments thus far.
In other news, platforms swapped places amongst our ranks, white spaces reared their heads in curious places, and you can rest assured that we clocked it all to keep you ahead of the curve.
Top platforms
In the twist of 2023 (so far), Pluto TV overtook Paramount+ for second place this June—a feat we'd foreshadowed in previous months and an indication that FAST channels continue to grow in popularity.
There was a 37.8% increase in overall platform spend year-over-year—not counting Disney+—and Peacock had the highest growth rate of 113%.
The Peacock platform has become the sole provider of many programs with diehard fanbases in recent times (think Real Housewives), which may be enticing more advertisers than in 2022. The platform also recently removed its free-tier subscription.
37.7% increase across top platforms YoY
113% growth rate for Peacock YoY still hasn't closed the gap
June 2022-2023: Ad spend by platform YOY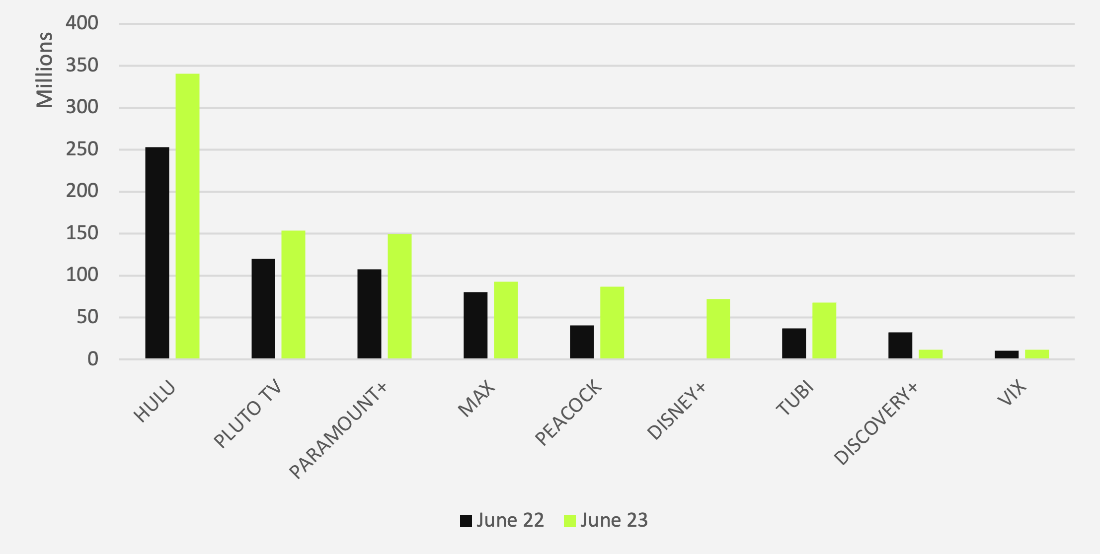 Source: Vivvix
Leading industries
Approximately $136M was spent by top industry food and beverages—maintaining its lead as the summer commenced.
1. Food and beverage
2. Restaurants
3. Retail
Financial and insurance had the greatest investment in Pluto TV of any industry with $18.3M—accounting for 22.8% of total industry spend. Games, toys, and sporting goods jumped in too with $9.5M toward the platform as the industry's biggest push.
Financial and insurance was also the top investor on Disney+ with $9.6M dedicated to the platform.
$136M spent by food and beverage

Financial and insurance invested $18.3M in Pluto TV

Financial and insurance was the top Disney+ advertiser




June 2023: Industry rankings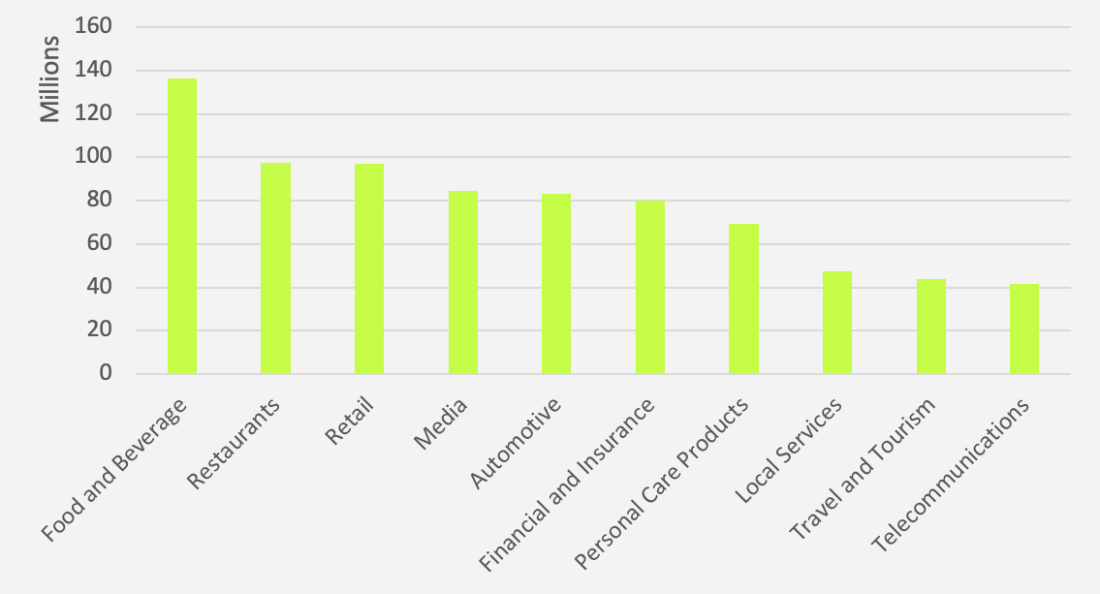 Source: Vivvix
Top spenders
1. Land Rover
2. Credit Karma
3. Amazon
Land Rover premiered in our top 20 in the number one spot—their greatest investment in Pluto TV at 45% of their total CTV spend, sending platform spend soaring.
Source: Vivvix
Source: Vivvix
Digging in, Amazon increased their streaming investment by nearly 100% from May to June this year—a Prime Day ploy perhaps. They were nearly even with Target in overall spend, but the latter had 50% of their money on Hulu while Amazon opted for less than 10%.
Our top three each dedicated more than 40% of their streaming budget to Pluto TV—Credit Karma with more than 55%.
Newcomer and top spender Land Rover invested big in PlutoTV

Amazon increased spend almost 100% from May to June in the lead-up to Prime Day




Streaming vs. linear
McDonald's devoted more than 40% of their AVOD/linear budget to AVOD—up from 35% in May.
Progressive upped their AVOD spend significantly since May, though it's still just a sliver of their pie.
June 2023: Top 20 brands with highest combined streaming and linear spend (ranked from most to least in AVOD spend)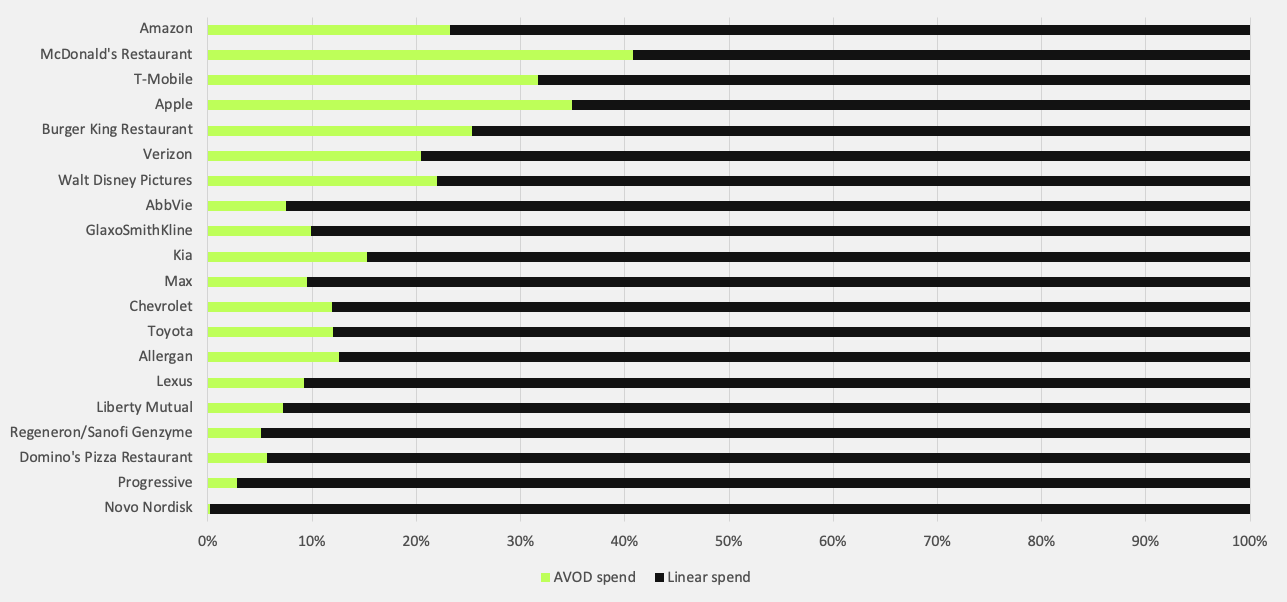 Source: Vivvix
T-Mobile put 31% of their spend toward AVOD in June over the 21% they invested in May while Verizon actually decreased their AVOD spend in favor of linear—at 20.4% down from 22%.
It may seem minor, but that's just about a $2M shift, which could be a sign of emerging white space for another provider to step into.
McDonald's put more than 40% of their AVOD/linear budget on AVOD

Progressive upped AVOD spend 577% from May to June

T-Mobile increased AVOD spend, Verizon decreased



Where's the white space?
Speaking of white space, we don't just want to give you eyes on the dashboard, but the keys to drive your decision-making.
Industries like household supplies and cleaners, education, and pets all left Max out of their mix despite food and beverages and retail doubling spend on the platform since May.
Pluto TV has now surpassed Paramount+, but who's responsible, and what kind of advertisers can fill the gap?
Household appliances, furnishings and paint, government and organizations, household building materials and fixtures, and office equipment and manufacturing were the Paramount+ low-spenders—all with less than a half million toward the platform, and energy put no dollars there.
Disney+ ranked fourth for games, toys, and sporting goods with about $2.2M invested—indicating that advertisers may not be pulling out all the stops to reach that audience just yet.
CTV/STREAMING

INTEL
Each month, we'll share the latest insights including spend, trends, and creatives in one of the most competitive landscapes to date. Stay tuned as we #FreeTheData.
Want access to streaming data and breaking creatives? Contact us here.