Temperatures were warming and rousing trends were forming.
Our top-spending industries might not surprise you as brands played to the eating, drinking and merry-making that consumers are prone to do in May when the heat creeps in.
But eclectic choices by our top advertisers may spark inspiration as white spaces emerge—on one platform in particular.
Top platforms
We saw a 35% increase in ad spend across our top platforms from May 2022 to May 2023, excluding Disney+ spend that we've only just begun tracking.
Pluto TV saw the smallest increase at a mere 3.6% growth rate—the lowest on record amongst the big three this year so far.
As for our leader, Hulu spend grew on par with our benchmark at a 35% rate.
35% increase across top platforms YoY

35% growth rate for Hulu YoY



May 2022-2023: Ad spend by platform YOY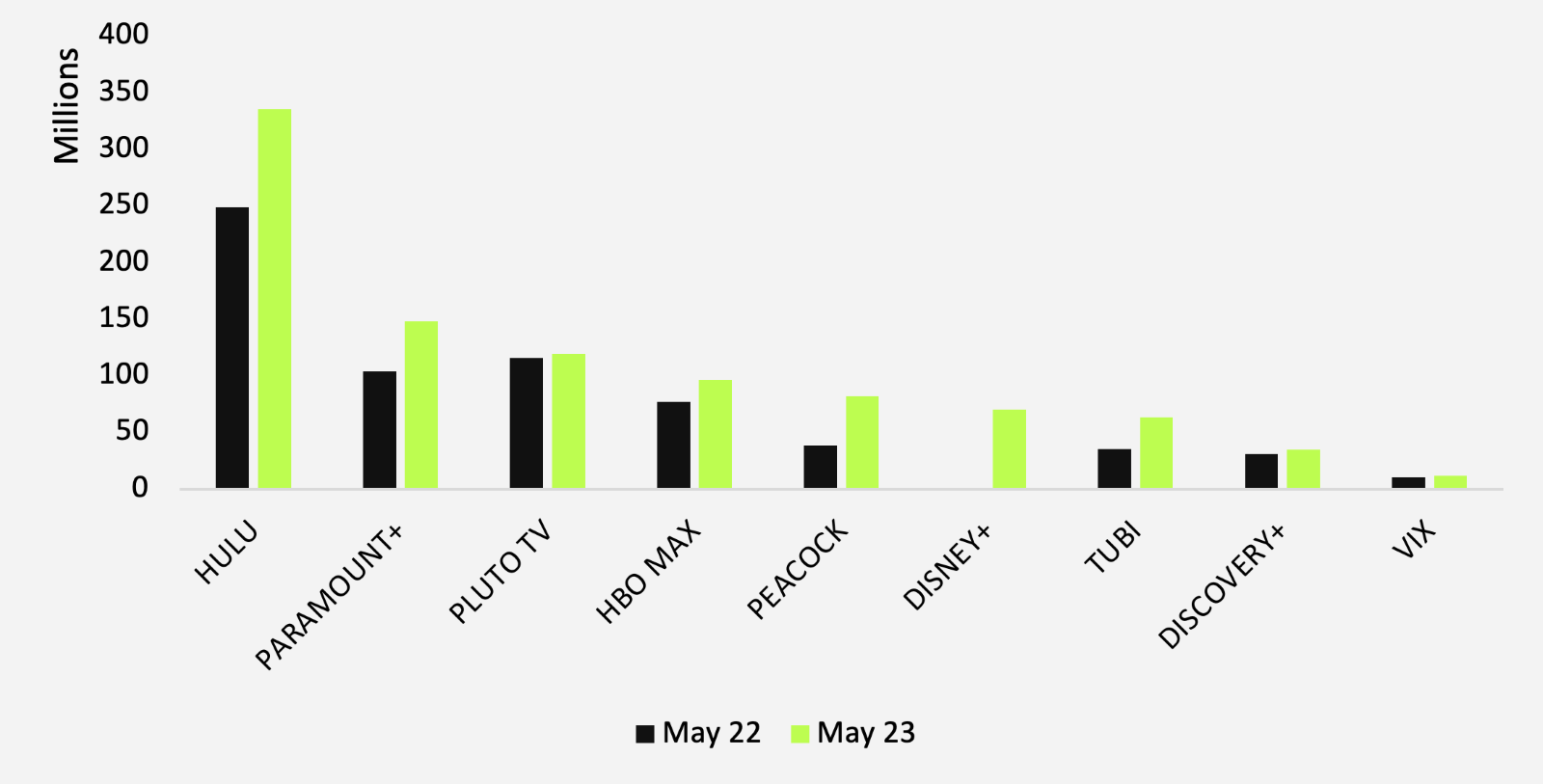 Source: Vivvix
Leading industries
Food and beverage flipped with restaurants since April to claim the lead with over $121M in spend—just squeezing out a record high for the year—and retail still trailed in third.
1. Food and beverage
2. Restaurants
3. Retail
Ranking 17th overall, education had a 38% investment in Tubi and only 0.2% in HBO Max, leaving a vacant arena for universities to face off within this space.
More than 5.9M of travel and tourism dollars went to Disney+, the highest investment in the platform by any industry. Suspicious that house ads could be the culprit? Not so.
The State of Florida, Expedia, and Hotels.com were the top advertisers within the industry while Disney ranked 16th.
In 12th place overall, household supplies and cleaners ranked first for Pluto TV at almost $11M spent on the platform.
May 2023: Industry rankings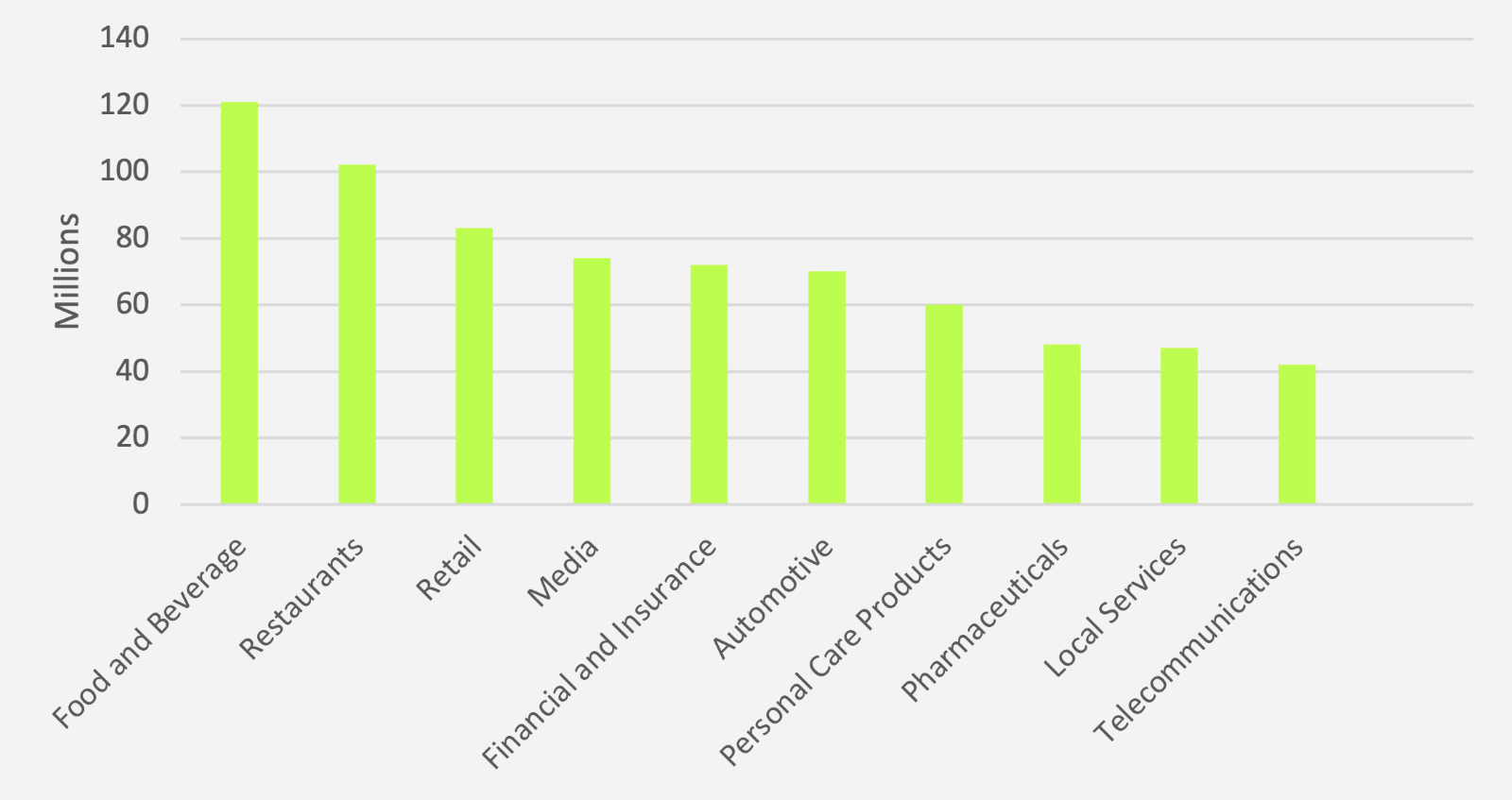 Source: Vivvix
Top spenders
1. Capital One
2. Febreze
3. McDonald's
Febreze landed first in the Discovery+ rankings amongst our top 20 advertisers, with no spend on Disney+ or HBO Max. The household supply brand spent the third most of all on Pluto TV, bolstering our finding about the industry's heavy saturation on the platform.
Burger King broke through as a top 20 streaming spender in May as well, and neither they nor the keepers of the famous golden arches spent on Disney+ or HBO Max, opening the gates for another burger purveyor to infiltrate.
The two fast food restaurants weren't the only industry giants opting out of HBO Max. Pfizer and GlaxoSmithKline spent nothing on the platform, granting other pharmaceutical companies an opportunity to swoop in.
While our fourth-place platform retained its rank in May, many advertisers seem to be shifting their attention from HBO Max—a trend we'll be sure to follow up on in months to come.
Streaming vs. linear
While our linear spend reporting was preliminary for May, we still found some noteworthy nuggets, so we'll give you the rundown on the split of spend amongst our top advertisers in overall AVOD/linear spend.
Kellogg's entered our rankings and spent 33% of their AVOD/linear budget on AVOD, exceeded only by McDonald's—our incumbent leader in overall spend—with 35%.
May 2023: Top 20 brands with highest combined streaming and linear spend (ranked from most to least in AVOD spend)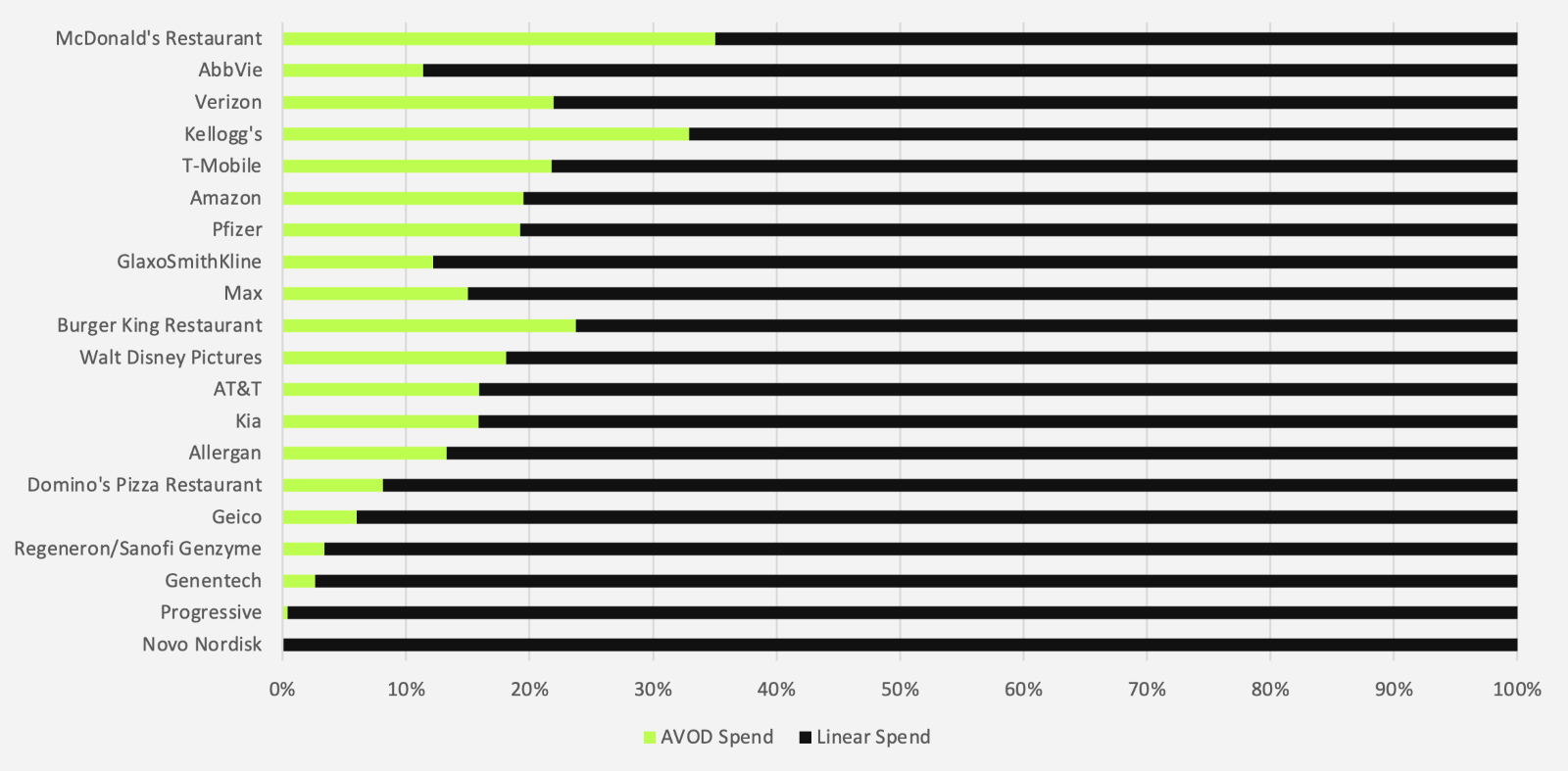 Source: Vivvix
Verizon and T-Mobile dedicated 22 and 21.8% of their budgets to AVOD, respectively. The two phone service providers were neck-and-neck, ranking sixth and eighth in overall spend.
And if you wonder where Progressive's 0.4% slice of AVOD spend went, look no further than Peacock.
CTV/STREAMING

INTEL
Each month, we'll share the latest insights including spend, trends, and creatives in one of the most competitive landscapes to date. Stay tuned as we #FreeTheData.
Want access to streaming data and breaking creatives? Contact us here.