In 2022, we observed the continued shift of ad dollars to streaming, with advertiser spend significantly increasing across 9 of the top ad-supported streaming platforms. Players like Netflix and Disney announced plans to enter the ad-supported arena, and more choices of platform and content contribute to more fragmentation, further burdening marketers looking to capture consumer attention.
While 2023 is gearing up to be a defining year for streaming, let's see who dominated in 2022.

Top Platforms
In 2022, Advertisers spent more than $8.6B across nine streaming platforms. While Hulu is still the top platform, substantial spend increased across the other platforms, rearranging the rankings.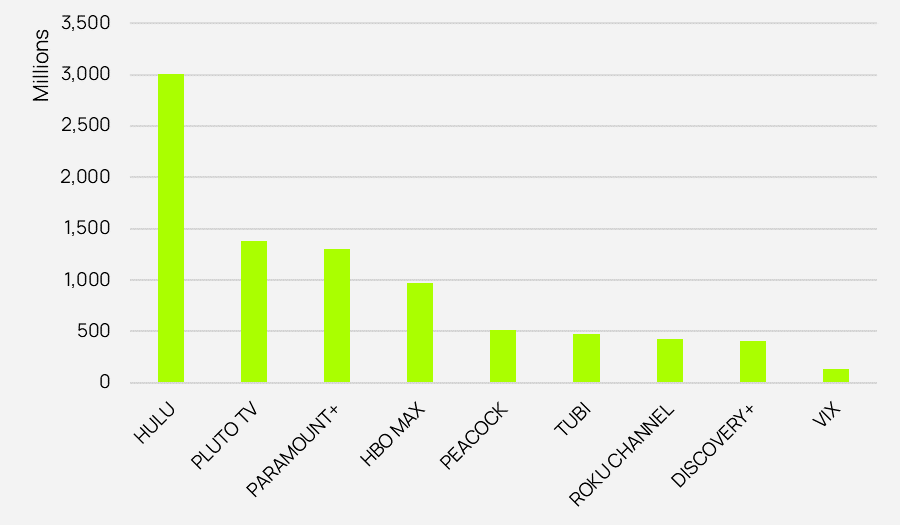 Source: Vivvix
Where's the growth?
Looking at advertising spend over the last 5 quarters, Hulu easily maintained its number one position. While Hulu is far and above the leader of the pack, nearly every platform demonstrated steady growth in ad dollars.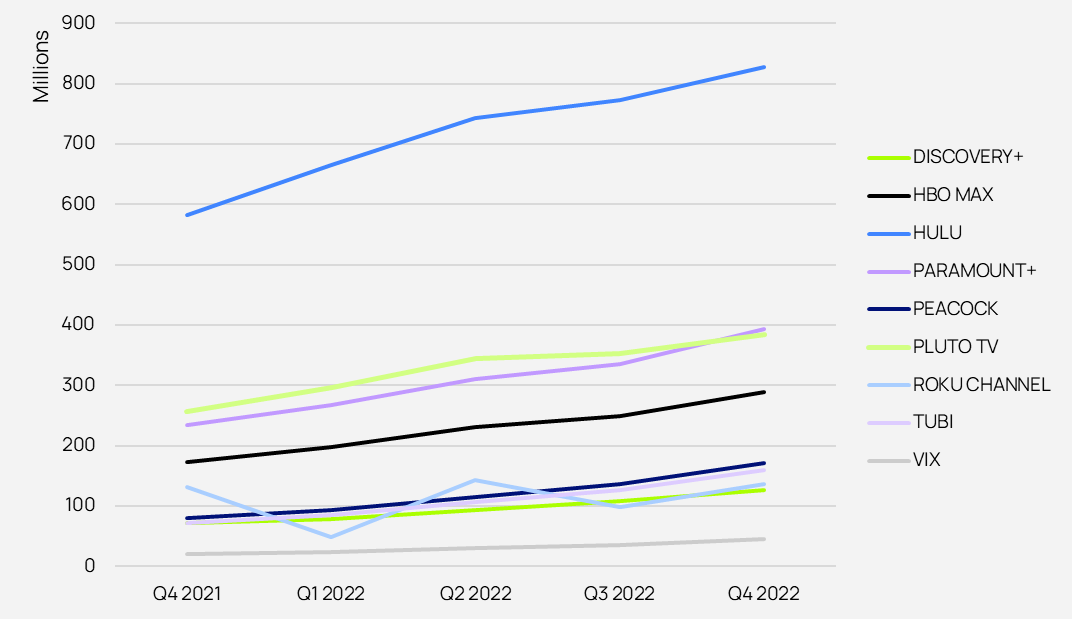 Source: Vivvix
The Power Player
Even as other players gained market share, Hulu maintained its position as the top streaming platform. In 2022, Hulu kicked off the year with an impressive $206 million in advertiser spend in January alone. With August 2022 being the only exception, advertiser spend steadily increased every month, amassing an astounding $3B in spend by year end.
Hulu in 2022
Market Share: 35%
Growth in Advertiser Spend: 37.1%

Total Advertisers Spend: $

3B

T

op 3 Industries: Media, Food and Beverage,

Restaurants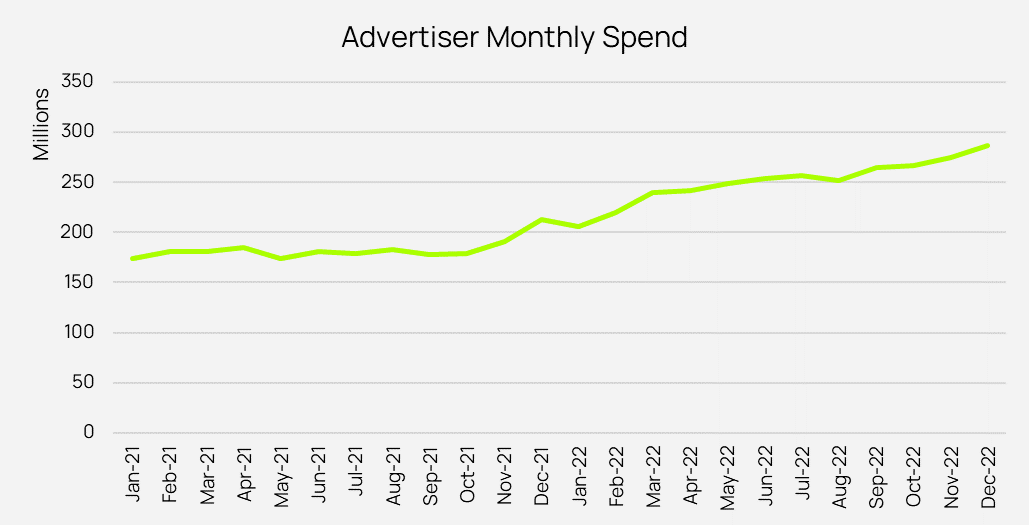 Source: Vivvix
Ones to Watch
There's a clear horserace between Paramount+ and Pluto TV to claim the #2 spot. After pacing on a similar trajectory, Paramount+ finally surpassed Pluto TV in September. Pluto TV quickly jockeyed its way back to end December and 2022 in the #2 spot.
In aggregate, both platforms impressively had over a billion dollars in projected advertiser spend in 2022. Pluto TV with $1.38B, while Paramount+ followed closely at $1.32B.
HBO Max ended the year just shy of the billion-dollar mark yet held a steady increase making it one to watch in 2023.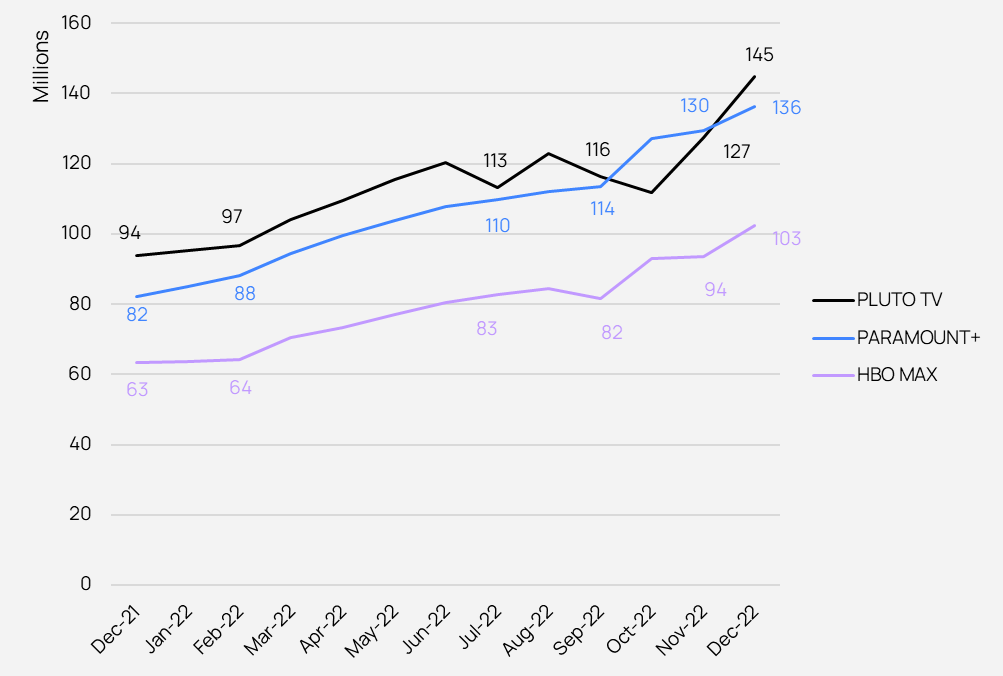 Source: Vivvix
Top Spenders
An estimated $1.8B was dedicated to AVOD across 20 brands. Geico, Amazon, Verizon, State Farm and Capital One all invested hundreds of millions in AVOD—representing just a portion of their overall projected spend.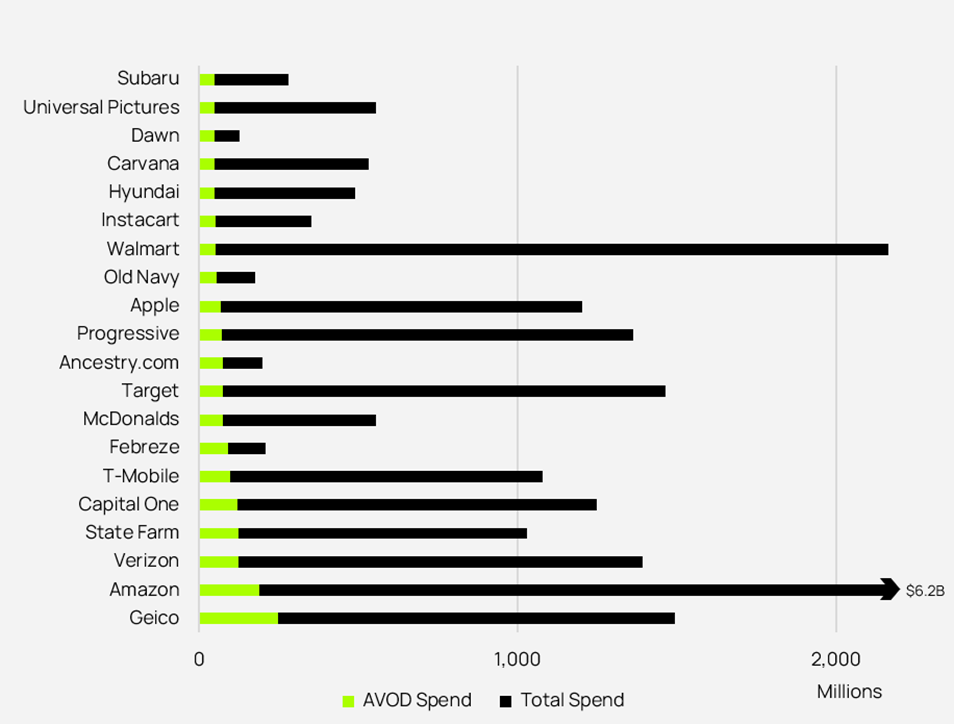 Source: Vivvix AVOD report based on top 20 advertisers for 2022. Dawn and Febreze are advertisers under parent company, Procter & Gamble.

All in on AVOD
On the opposite side of the spectrum, Old Navy, Dawn, Ancestry.com, and Febreze made the largest investments in AVOD compared to their overall spend in 2022.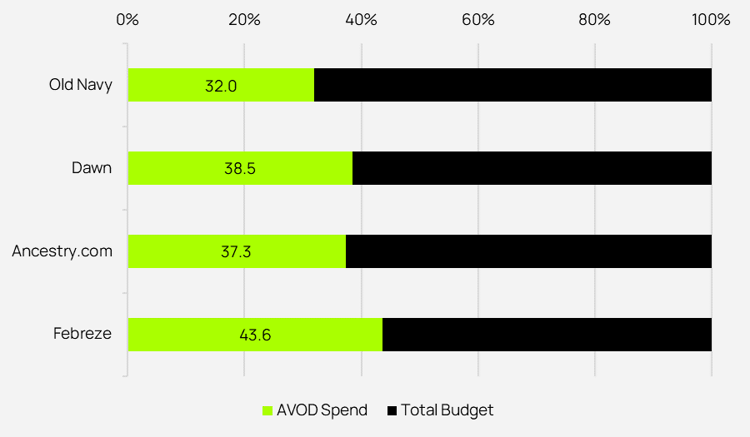 Source: Vivvix
AVOD INTEL
We're at the start of 2023 and the beginning of our new Streaming Ad Intel Series. Each month, we'll share the latest insights including spend, trends and creative in one of the most competitive landscapes to date. Stay tuned as we #FreetheData.
Want access to streaming data and breaking creatives? Contact us here.
All data represented is projected ad spend for the 9 platforms tracked by Vivvix: discovery+, HBO Max, Hulu, Paramount+, Peacock, Pluto TV, Roku Channel, Tubi, and ViX.