March marks the start of spring and the upturn of attitudes as the winter blues dissipates, most typically stimulating the uptick of consumer activity.
March also marks another major milestone for ad-supported streaming this year now that Disney+ has officially entered the space. A cultural cornerstone and core contributor to many a childhood memory, Disney has answered the call and put their prosperous platform on the AVOD map.
After their fall announcement of this subscription option, the deed is done. Disney+ has joined our cast of characters and it's come in hot, garnering $66M worth of ad spend in its first month alone.
We know that this development may elate fervent data connoisseurs, so—without further ado—let the magic begin.
Top platforms
We saw a 38% growth rate in year-over-year advertiser spend across our top platforms from March 2022 to 2023—excluding Disney+ to account for the lack of historical data.
March 2023: 2022-2023: Ad spend by platform YOY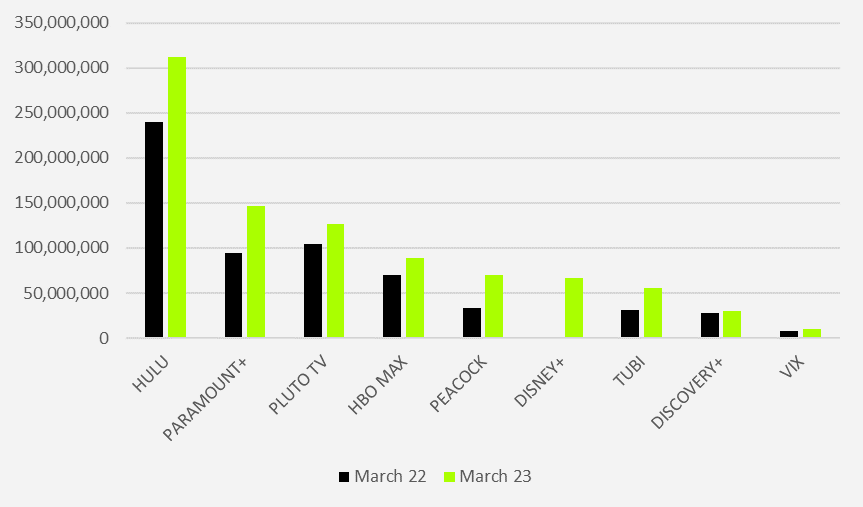 Source: Vivvix
But as you can see, Disney+ has not only joined our top nine—it's assumed the sixth slot in our March 2023 rankings, accounting for 7.3% of spend across these services when we look at total ad-supported streaming spend.
Leading industries
March 2023: Industry rankings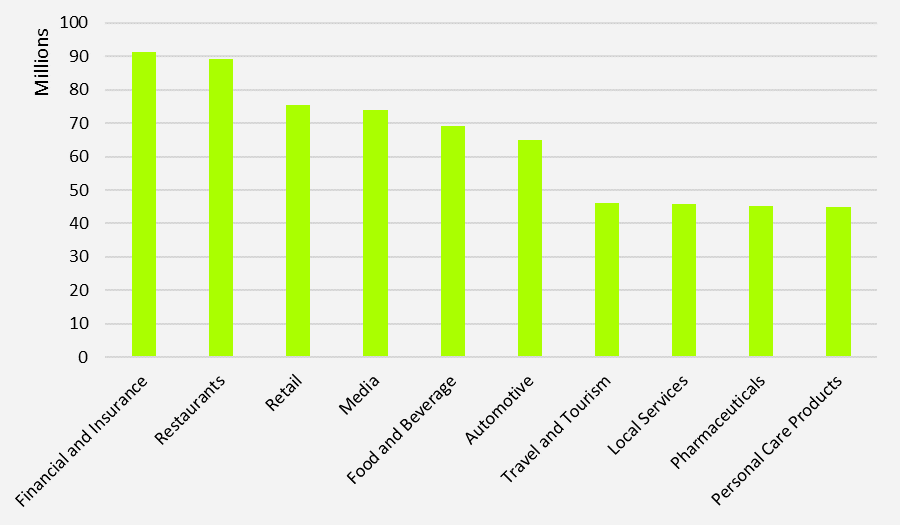 Source: Vivvix
Retail cracked the top three biggest spenders by industry as brands prepared for the rush of shoppers looking to swap out their pants and parkas for shorts and swimwear by scoring some deals at spring sales.
Travel and tourism entered the rankings, and though spend here was still quite a way behind automotive, the industry dominated on HBO Max, securing 13% of all ad spend on the platform between the top 25 industries.
Restaurants was #1 in Disney+ ad spend with brands like Red Lobster, Pizza Hut and Wing Stop busting out of the gate to get in on the action.
Top spenders
The weather was warming as the economy continued to cool this March, with the rate of inflation down to 5% from February's 6%. But it didn't quite translate to lower ad-supported streaming spend by brands.
FanDuel reached the top spot—tempting viewers to bet big on their March Madness brackets, no doubt. However, they ranked 17th of all Hulu spenders in our top 20.
Ranking 16th, spend by Hawaiian Airlines is reflective of that travel and tourism boom we saw, and they threw a weighty 76% of their budget at HBO Max.
Finally—the piece de resistance of our March analysis—the top Disney+ ad-supported streaming advertisers were DoorDash, Post, and Geico.
DoorDash was first—tapping into that parental demographic who continue to find themselves entranced by a Bluey episode as dinner time approaches. While number one on Disney+, they did not make the top 20 brands spending on streaming overall.
Streaming vs. linear
The Oscars aired in March again this year, making it another ostensibly iffy month for ad-supported streaming in terms of budget division between linear and streaming.
But the top 20 AVOD and linear TV spenders were pretty consistent compared to February—many hovering just above 10% toward streaming spend out of combined budget.
March 2023: Top 20 brands with highest combined streaming and linear spend (ranked from most to least overall spend)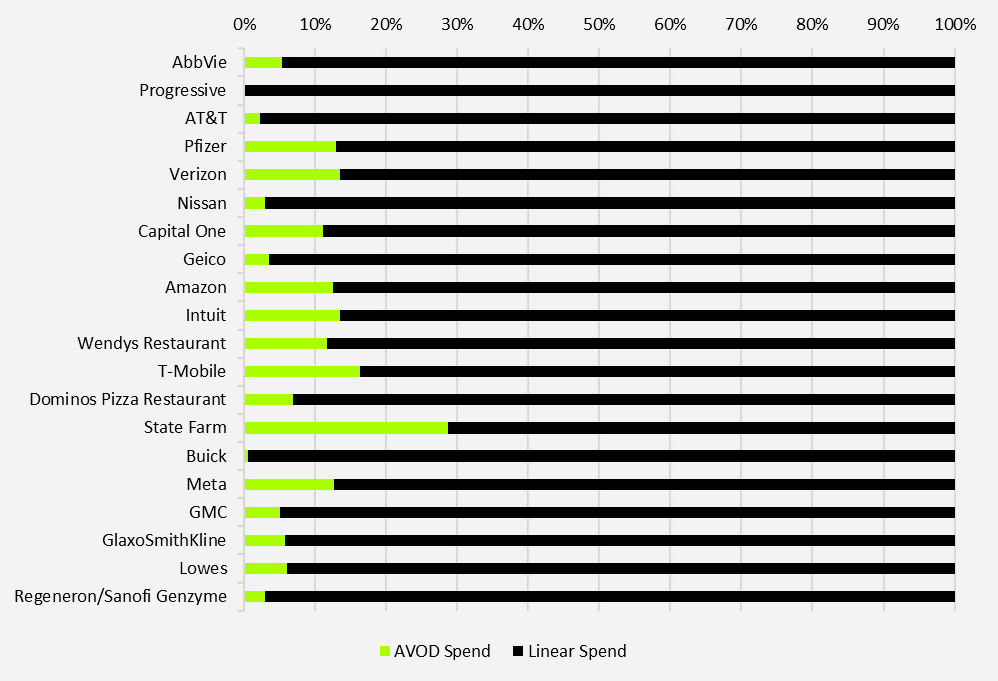 Source: Vivvix
Unanimous commercial powerhouse State Farm continues to lean in on streaming. So, will adversary Progressive put up their own AVOD numbers any time soon?
It remains to be seen, but they are spending 66% more than State Farm on linear—a bold move at this stage of the game.
Popular programs
We observed spend on an eclectic mix of programs this March, starting with Dance Moms, available on Hulu, in the top spot for ad dollars.
Legal drama Accused took second—also available on Hulu. And throwback drama Touched By An Angel slid into third place, streaming on Paramount+ and Pluto TV.
The latter was not only interesting for the fact that it premiered in 1994 and ended in 2003, but its ad slot spend actually increased 264% from 2022 to 2023.
Accused was less perplexing, as the show just debuted this year, but Dance Moms began in 2011 and ran until its cancellation in 2020.
Methods to this madness undisclosed, we can assure you that we'll keep our finger on the pulse to investigate these ebbs and flows going forward.
AVOD INTEL
Now that Disney+ is in our mix, we're eager to chart its development through future editions of the Streaming Recap.
Each month, we'll share the latest insights including spend, trends, and creative in one of the most competitive landscapes to date. Stay tuned as we #FreeTheData.
Want access to streaming data and breaking creatives? Contact us here.